Comparison of Popular Metal Detector Digging Tools:
Below I am going to break down the best metal detector shovels & trowels for general purpose digging. This includes playgrounds, old homesteads, relic hunting, etc. What makes these metal detecting shovels great is their ability to cut through grass, roots, and mud. You need something that has sharp edges and in some of the more deluxe models there are serrations specifically designed to slice through roots. Also, the handle and blade have to be reinforced because you will be doing a lot of prying. Some of these metal detecting digging tools are just regular garden shovels while some are specifically designed with the metal detectorist in mind (Lesche Digger). Regardless, all will do a good job of digging up potential targets!

How to Dig With Your Metal Detecting Shovel:
Before I get into the best metal detecting shovels I wanted to provide some tips on how to dig a "plug". A plug is a term used in metal detecting to describe a hole that is dug to make it seem like you were never there! This is important because if you want to go back to your favorite park or your relatives historic property, neither want a yard that looks like a minefield. The key is digging the right hole so that the vegetation above is unharmed by the digging process. Start by digging/cutting through the grass in either a half circle or a triangle, which ever you prefer. Then slowly pry up the grass, which should be a flap, over onto the grass nearby. Use a drop cloth to collect all the dirt as you dig to find the target. When you are finished, place the dirt back in the hole and place the grass back over and give the area a couple stomps with your foot.

Fiskars Big Grip Garden Knife
Looking for a dirt cheap metal detector digging tool? This is a great option because of its low cost and because it has a serrated blade. I would describe this metal detecting shovel as more of a "cutter". For instance you can cut roots, grass, or any other vegetation with ease but DON'T try to pry up your hole to hard (stick the shovel in the hole and press down on the handle, prying up
the grass/dirt). If you choose to pry with this using excessive force, over time you will break the weld
between the blade and the handle.

Fiskars Composite Trowel
This is another low cost metal detecting digging tool but this has a unique difference from the others. It's not made of metal, but instead composite material! Why is that so great? Well, you can run your metal detector or pinpointer over the shovel without setting it off so you know you have the target in the shovel. This can save time and help you find those smaller items. Also, this is stronger and more sturdy than a plastic shovel for metal detecting. Again, as with the shovel above,
be careful when "prying" with this shovel. However, the price can't be beat and is a perfect add-on
when purchasing other items.

Japanese Hori Hori Digging Tool
The Hori Hori Digging Tool is a high quality landscaping tool that is perfectly made for metal detecting. The blade is stainless steel and extremely well built. This metal detecting shovel is comparable to the Lesche digger below and when deciding between the two it really comes down to preference as either one is a great choice. Check out the reviews on amazon, it currently has many reviews, with an average 5 star rating.
Lesche Digging Tool
The Lesche digger is a great metal detector shovel. Mine has remained in perfect shape despite lots of punishment! Why is the Lesche so popular? It is very well made, has a great grip, serrated blade for cutting roots and vegetation, and has some good weight to it so you can put pressure on it when digging without having to worry about it bending or breaking. Also, the tip of the Lesche digger is thick and strong for digging in dry soil. This metal detecting shovel also has excellent reviews. This is a perfect starter metal detecting digging tool!
Lesche T-Handle Heavy Duty Metal Detecting Shovel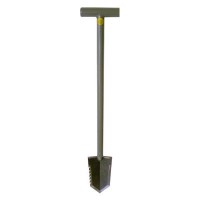 The Lesche T Handle shovel is for the serious treasure hunter! This shovel will make short work of roots and other vegetation with the help of its serrated blades on the shovel. This is a very well made metal detecting shovel for those stubborn or more difficult digging locations. I would recommend this for relic hunting and coin shooting in old homestead yards. A regular shovel is also a possibility but this has a smaller profile making filling holes easier and You can take this shovel to the park but be careful as it may raise a few eyebrows! Also, be aware of proper digging technique to have as little effect as possible on the grass if you do decide to did in any landscape that is regularly maintained.

Metal Detecting Pin Pointer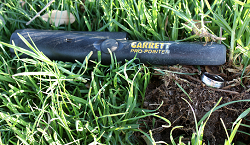 The Garrett Pro Pointer is the perfect accessory for digging in any dirt, sand, you name it. This pinpointer is well known for its reliability, accuracy, and sensitivity. It is designed to help you find targets with increased speed because you are able to tell where the target is in relation to the hole you have just dug. Is the target deeper, on the side of the hole, or in the pile you have next to it? The Garrett Pro Pointer will beep and vibrate depending on how close the metal target is. Be sure to check out the Amazon reviews, this is a popular metal detecting accessory!

Metal Detector Finds Pouch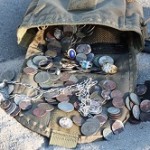 With all the targets you will be digging up with your metal detecting shovel you are going to need a place to put them so you can continue on your hunt. Metal detecting finds pouches are worn on the waist (most come with a belt) and are designed to hold not only trash items but your keepers in different compartments. Another important feature are "drain holes" so you can quickly rinse out all the dirt that is stuck to your finds making clean up much easier.

Important and cheap metal detector digging tools accessory: The plastic sheet or cloth!
Why is this important? If you are digging in grass or dirt, you need to place the dirt somewhere so when you are done extracting your target you can put the dirt back in the hole and make it look like you were never there! I usually just use old dish towels.
Check EBAY for a huge selection of metal detector digging tools at a great price!