What metal detector has a fantastic price and easy to use knobs?
Bounty Hunter Tracker IV Important details:
- Three modes (All metal, full discrimination, tone discrimination)
- Two Knobs (Sensitivity and discrimination)
- Requires two 9 volt alkaline batteries
- Automatic ground balancing
- Weight 2.9 pounds
- 8 inch coil
Bounty Hunter Tracker IV Review & Guide:
The Bounty Hunter Tracker IV Metal Detector was the first metal detector I purchased. The Bounty Hunter Tracker IV is popular because it is simple to use and very reasonably priced (around 100 bucks). This is a no bells and whistles machine (no LCD screen and has basic controls).  What it lacks in flash it makes up for in ease of use. This detector also makes a great backup when you decide to upgrade down the line. Mine stays in back of my Jeep for those unexpected detecting sessions. If I see a park I want to detect or a sidewalk tear-out, I have my Bounty Hunter right there ready to search for goodies!
When I first started I set the detector to all metal (center position on the toggle switch) with the discrimination as low as possible (right dial turned all the way to the left) and the sensitivity to half way (left dial turned to the middle). The reason I did this was because I just wanted to see if the detector worked! Sure enough I was getting signals that only gave one tone and it was exciting knowing there was something in the ground.
As you get more familiar with the Bounty Hunter Tracker IV Metal Detector there are many opinions on the proper settings. My personal view is that you want the detector to help you find out what the target is through the tones but never discriminate targets from not being heard, with the exception of iron. Additionally, you want to keep the sensitivity as high as possible without falsing (detector signals a target but there is none).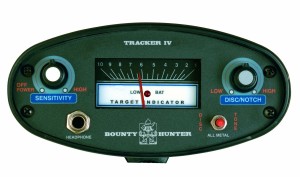 My Personal Bounty Hunter Tracker IV Settings:
- Toggle switch in the right position (Tone discrimination)
- Right dial turned all the way to the left (No discrimination)
- Left dial turned between half way and three forths to the right (mid/high sensitivity)

Popular Bounty Hunter Tracker IV Accessories
Below are some common Bounty Hunter Tracker IV accessories that metal detectorists purchase to assist with metal detecting.

Bounty Hunter Metal Detector Headphones
While headphones are not necessary for the Bounty Hunter Tracker IV they do assist with acquiring targets because they reduce outside noise allowing you to hear targets better. Also, they improve the battery life of the metal detector. If you are interested in buying headphones, click here for

Bounty Hunter Metal Detector 4 inch coil
Why do you want a smaller coil? It' all about being precise. With the small coil you can pick through trashy areas or get into tigher spots that the larger coil can't get to. On the Bounty Hunter Tracker IV, the coils are interchangable, you just unplug the coil from the control housing and plug in a new one. If you are interested in buying, click here for a new

Bounty Hunter Pin Pointer
A pin pointer is important because it helps you find the target once you have found it with your metal detector. If you are at the park or a relatives old property you don't want to dig giant holes to dig up at that old silver quarter. The pin pointer lets you know if you are close to a target by beeping when you place it next to the metal object. Would you rather use a small handhold pinpointer to know if you have dug up the target or grab your detector everytime and scan a clump of dirt. Check here for the loweest price on Bounty Hunter Pinpointer. Additionally, want a water resistant and more rugid pin pointer check out the Garrett pro-pointer.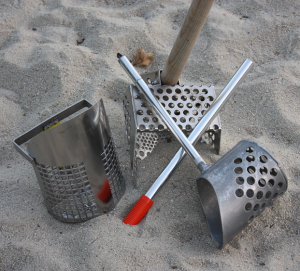 If you are close by any body of water you may want to think about metal detecting the dry beach sand. In order to dig up the targets in the most efficient way, you want to purchase a beach metal detecting sand scoop. These are designed to quickly sift through the sand so you can keep searching for the goodies. Have a look at my page dedicated to metal detecting sand scoops. Alternatively, if you want to search your local park or other area with dirt, check out this page on metal detecting digging tools.
Where to Hunt?
Research is an important part of metal detecting. Take a look around the area where you live and determine what you are searching for. Is it old relics, coins, or newer drops like change or jewelry? Personally, I like to do both but because of the area I live in, I am primarily a beach hunter.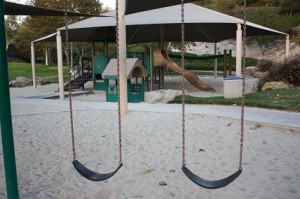 I like to start in the playground sand (swings/slides are a great spot) as it is easy to find targets and a great location to test the machine! As you advance into digging in the grass I recommend you research proper digging technique as it is a quick way to get unwanted attention as people quickly notice large holes and dead grass left behind. Look for heavy activity such as sports, picnic spots under trees, and where spectators like to sit and watch. You never know what you will find! Click here for more beginner metal detecting location ideas.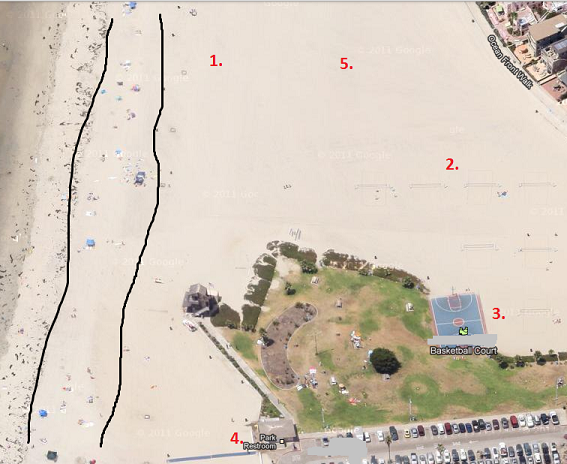 The beach is my favorite place to metal detect. Why is that? Because it is easy to dig and the beaches are constantly being replenished with fresh drops. During the summer you can go after work, in the morning, or ideally, on Sunday evening to catch all the weekend travellers to see what was left behind. During the winter, storms can move the sand around and you can find older coins and artifacts. The Bounty Hunter Tracker IV will work great on the dry sand of the beach. You may want to turn up the discrimination as the beach can be quite trashy. Be sure to check out my webpage detailing my Beach Metal Detecting Tips.
So what have I found with my Bounty Hunter?
When I first started it was mostly crusty pennies, aluminum cans, and pulltabs. As I advanced by learning how to properly set the discrimination and sensitivity, and swinging the coil low and slow, I was finding old coins (wheat pennies and mercury dimes) and rings. Will you find the same? I can't tell you for sure but the only way to find out is getting out there yourself! Metal detecting rewards patience, persistence, and luck.
Why is the Bounty Hunter Tracker IV so popular?
The main reason to buy the Bounty Hunter Tracker IV over other metal detectors is the price and ease of use. This detector is a great entry level machine because it has plenty of functions with the flip of a switch and great flexibility by adjusting the discimination or sensitivity with the twist of a knob. If you are debating between the Bounty Hunter Tracker IV and the Garrett Ace 150 think about what would be easier to use? Knob or button functionality. If you want to pay the least amount and the use of knobs suits you, stick with the Bounty Hunter Tracker IV.
Interested in buying the Bounty Hunter Tracker IV?
Ready to start the hobby that provides some exercise, allows you to enjoy the outdoors, and can pay for itself? Well the first thing you need is a detector of course. But where can you get one for the best price? The prices of detectors fluctuate slightly due to sales and if you want the best price why not buy from the websites that have consistently low prices. You might as well buy from a place you are familiar with also right? To the right is the best price on Amazon. Below are current Ebay auctions that include both new and used metal detectors. If you found the information useful and choose to buy from either of these sites, good luck with your new hobby!