Garrett Infinium LS Information & details:
– Pulse induction technology
– Waterproof housing (200 feet)
– 3 control knobs (Power, discrimination, threshold)
– 2 Tones (high-low, low-high)
– Total Weight (6 pounds 4.1 oz)
– 8 AA Batteries (Alkaline or rechargeable)
– Land use only headphones (Water headphones optional)
– 14″ x 10″ DD elliptical Coil
– 2 year warranty
Garrett Infinium LS Review & Settings:
The Garrett Infinium LS is the most sensitive and deepest machine around. Be aware though, it has a STEEP learning curve. Read the manual and pick up any number of popular books on the detector because understanding the ins and outs of this detector takes time. The reward will be a detector that punches through black sand and will find DEEP targets. Due to the detectors sensitivity to small gold, it doubles as a great gold nugget hunter.
Operation of the detector starts with making sure the headphones are just slightly above the minimum setting as the detector is designed for underwater use, it can be quite loud. Turn the Power on and set threshold about "4", and discriminate to "0". Now set to the slow ground tracking position. The detector will beep 4 times for fully charged batteries, three times if less than full, and so on. You want to tweak the threshold for a barely discernable tone. The detector works on a two tone system. A high-low tone means gold, nickels, zinc pennies, wire and aluminum. A low-high is for silver, copper, and iron.
Understand this is a pulse induction technology detector. What you lack in discrimination you pay for in depth, especially in heavy mineralized beaches (lots of black sand). Keep that in mind when making your decision on which detector to get. In the end most seasoned detectorists have one VLF detector and one PI detector because sometimes you need to use one over the other for the benefits that each provide.

Where to hunt with the Garrett Infinium LS: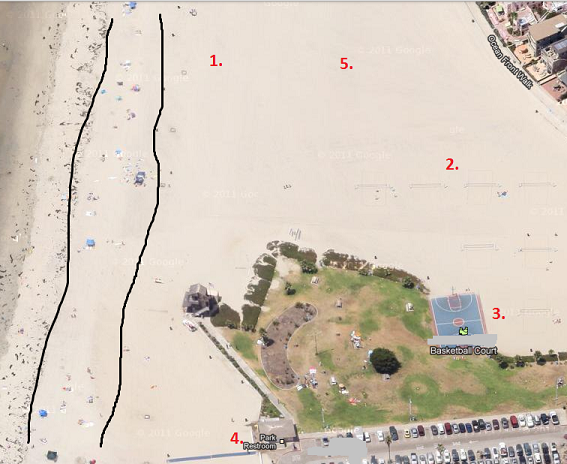 The Garrett Infinium LS belongs in the water and wet sand. Research the tides and plan to hunt at low tide so you can have access to as much sand where people played as possible. Also, this detector doubles as a great gold nugget hunter so if you are interested in that, this dectector is perfect for that as well. You can hunt the dry sand beaches with this machine but keep in mind that you will be digging a lot of trash. Check out more beach metal detecting tips here!
Popular Garrett Infinium Accessories
Below are some common Garrett Infinium accessories that metal detectorists purchase to assist with metal detecting. While the Garrett Infinium LS can be used as both a land and sea machine, keep in mind that if you beach hunt, get accessories that are waterproof so they don't become damaged if you drop them in the water while detecting.

Garrett Infinium Submersible Headphones
The Garrett Infinium is waterproof so it makes sense to buy headphones that are waterproof to right? Well these fit the headphone plug for all waterproof Garrett detectors. They are a little pricey but all waterproof headphones are. Click on the picture to the right for the best price.
Garrett Infinium Rechargeable Batteries
The Garrett Infinium uses AA batteries so it makes sense to buy rechargeable ones. The Sanyo Eneloops are by far the best AA rechargeable batteries around, just look at all the positive reviews. These work perfectly with the Garrett Infinium, and should cut down on your long term battery costs. They charge quickly and have a long battery life which is perfect for detecting. Click here for the best price on Sanyo Eneloop Batteries!
Metal Detector Finds Pouch
With all the goodies found at the beach you are going to need a place to put them so you can continue on your hunt. Metal detecting finds pouches are worn on the waist (most come with a belt) and are designed to hold not only trash items but your keepers in different compartments. Another important feature are "drain holes" so you can quickly rinse out all the sand that is stuck to your finds making clean up much easier.
Garrett Infinium Beach Scoop
The Garrett Infinium is a wet sand & water machine. You are going to need a durable long handled metal detecting sand scoop Why? How else are you going to get the targets buried deep with the waves going over your potential target. Metal detecting sand scoops come in different materials and different sizes depending on your budget. Have a look at my page dedicated to metal detecting sand scoops.
Where to buy your Garrett Infinium LS metal detector?

Due to its PI technology you will be able to dig deep targets. If you have the patience to dig it all you will be rewarded with deep targets that the VLF detectors could'nt pick up. Also, due to it's sensitivity to small targets, it works great on nugget shooting as well. The prices of detectors fluctuate slightly due to sales and if you want the best price why not buy from the websites that have consistently low prices. You might as well buy from a place you are familiar with also right? To the right is the best price on Amazon. Below are current Ebay auctions that include both new and used metal detectors. If you found the information useful and choose to buy from either of these sites, good luck in the water!