Garrett ATX Information & details:
– Two search modes (motion and non-motion)
– 25 discrimination settings
– Waterproof housing (10 feet)
– Advanced ground balance for heavily mineralized ground & saltwater
– Pulse induction technology with "Quick Iron Check" feature
– Fully Collapsible: Can be telescoped down for portable carrying
– 8 AA batteries required
– 12 inch DD coil
– Total weight with batteries – 6.9 Lbs
– Two year warranty

Garrett ATX Review & Guide:
The Garrett ATX is the newest metal detector from Garrett. The ATX is designed to be an "all terrain" metal detector because it is suitable in all harsh environments making it perfect for saltwater beach hunting, gold prospecting, and even relic detecting. Pulse induction metal detectors are well known for their inability to discriminate iron. While the Garrett ATX is a Pulse Induction metal detector is has some discrimination capabilities and a unique iron check to help determine if you have uncovered ferrous metal (iron). Another great feature is the Garrett ATX ground track which is a fancy way of saying automatic ground balance. The Garrett ATX has a telescoping shaft making it ideal for travel and storage. Finally, while the ATX is designed for all types of metal detecting I think it is best for wet sand/water detecting and gold nugget detecting. That is because both of those environments require a specialized metal detector that can deal with the difficult mineralization of the iron rich soil and saltwater.
Garrett ATX Iron Check
The iron check feature is important because it allows the Garrett ATX to discriminate iron. This should help determine if a target is worth digging, especially in areas where digging iron is almost always something that is unwanted (at the beach).
Garrett ATX Frequency Scan
Garrett ATX frequency scan is for running the ATX as smooth and quiet as possible. While ground balance is for interference caused from the ground, frequency scan is for electronic interference from power lines, other metal detectors, and even certain lighting.
Garrett ATX Ground Balance
Ground balance is the way metal detectors cut through difficult ground. Saltwater, iron particles, and other material causes false readings for most entry level metal detectors. More specialized metal detectors like the Garrett ATX have specific settings for cutting through difficult ground. Using ground balance with the ATX is simple. Start with finding a clear flat area that is free of targets and put the search coil roughly 6 inches above the ground. Press and hold the GND BAL button and you will hear a two beeps indicating that ground balance has started. As you are holding the GND BAL button move the search coil from about 1 to 6 inches above the ground until you no longer hear any ground response. Garrett ATX ground track is automatic ground balance. While this takes care of ground balance be aware that some reduced depth will be noticed but it is important if you have an environment where there is constantly changing mineralization. One example is some beaches that have inconsistent amounts of black sand requiring regular changes to ground balance.

Garrett ATX Manual:
Need more information directly from the company that made the Garrett ATX? Have a look at the instruction manual from the manufacturer. This link is directly from the Garrett website. Be sure to review the Garrett ATX Metal Detector Manual.

Garrett ATX Settings:
Power: The power button is located on the back of the detector. Four audio beeps means the metal detector is fully charged.
Mode: There are two modes, motion and non-motion mode. Motion mode should be used because is it considered more stable than non-motion mode. If you want to pinpoint or need a little extra depth, switch to non-motion mode but remember it is less stable.
Sensitivity: There are 13 settings for sensitivity which are noted on the top of the interface and with the specific sensitivity setting indicated by the lite up LED. As with all metal detectors the higher the sensitivity the more prone to interference the Garrett ATX will be. The default setting is 10. A general rule for maximum depth, adjust sensitivity so that the detector runs smooth without noticeable instability in the tone.
Discrimination: The Garrett ATX has 25 levels of discrimination but to be honest I would always keep discrimination at zero because you don't want to miss any potential targets.
Threshold: This is the audio background buzz or hum that is hear in between hearing potential targets. You want to keep the threshold so it is barely audible because a constant threshold hum provides you with valuable knowledge about how the Garrett ATX is running. If the threshold is not stable you will hear it, telling you that the detector is having issues with interference.
Frequency Scan: All you have to do is hold the FREQ SCAN button and keep the search coil still for the necessary 35 seconds. You will know when the Garrett ATX frequency scan is complete after three beeps.
Iron Check: The IRON CK button is simple to use by pressing and holding the button until you hear a double beep. Similar to pinpointing, quickly scan over the target being careful to listen to any target that is iron making a low tone or "growl".

Garrett ATX Beach & Water Use: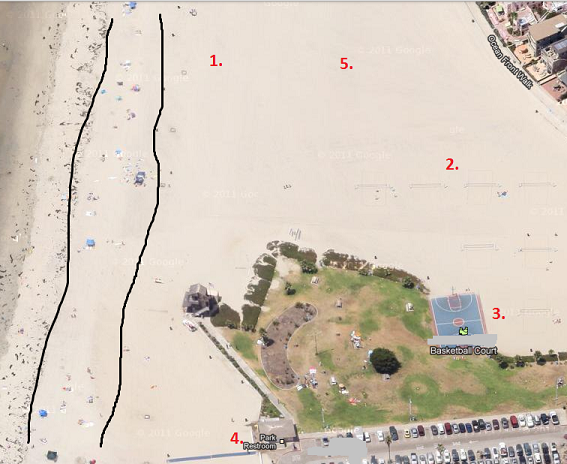 While the Garrett ATX is great for nugget hunting I included it as a "beach metal detector" because this is a great metal detector for the wet sand and water. There tend to be less iron objects and trash in the water and with this machines depth you will be finding plenty of treasure. Make sure that you ground balance any time you are making the transition from the dry sand to the wet sand of the beach. If you are finding heavy mineralization in the wet sand (black sand) try using the automatic ground balance of the Garrett ATX ground track. Also, keep discrimination at a minimum. If you are interested in some general hunting tips, check out my webpage on beach metal detecting tips!

Best Garrett ATX Accessories:
Have a look at some great Garrett ATX accessories that metal detectorists purchase to assist with detecting. While the ATX is an all terrain detector, keep in mind that if you beach hunt you will need accessories that are waterproof so they don't become damaged if you drop them in the water while detecting.

Garrett ATX Submersible Headphones

The Garrett ATX is waterproof so it makes sense to buy headphones that are waterproof to right? These headphones fit the plug for all waterproof Garrett detectors. They are a little pricey but all waterproof headphones are. Click here to learn more about Garrett Submersible Headphones. If you have other headphones you want to use think about picking up a Headphone Adapter.

Metal Detector Finds Pouch

With all the goodies found at the beach you are going to need a place to put them so you can continue on your hunt. Metal detecting finds pouches are worn on the waist (most come with a belt) and are designed to hold not only trash items but your keepers in different compartments. Another important feature are "drain holes" so you can quickly rinse out all the sand that is stuck to your finds making clean up much easier.

Wet Sand Metal Detecting Scoops:

A durable, heavy duty metal detecting sand scoop is probably the second most important item to have right behind the metal detector itself. Why? How else are you going to get the targets in the wet sand or even the water. Metal detecting sand scoops come in different materials and different sizes depending on your budget. Some are great for the dry sands of the beach while others are heavier but designed to cut through the thickest wet sand. Have a look at my page dedicated to metal detecting sand scoops.
Where to buy your Garrett ATX metal detector?
The Garrett ATX the latest offering from Garrett. This is for the serious metal detectorist especially if you are a beach hunter or nugget shooter. The Garrett ATX is great for finding small pieces of gold in the most difficult conditions. But where can you get one for the best price? The prices of detectors fluctuate slightly due to sales and if you want the best price why not buy from the websites that have consistently low prices. You might as well buy from a place you are familiar with also right? To the right is the best price on Amazon. Below are current Ebay auctions that include both new and used metal detectors. If you found the information useful and choose to buy from either of these sites, good luck in the water!