Beach Metal Detector Scoop Comparison & Guide:
A beach sand scoop is the most important item you bring besides your detector! Why? Because once you have located the target with your metal detector you need to dig it up. This is where a beach sand scoop comes in because it is as simple as sifting through the beach sand until your target appears at the bottom of the scoop. Now I have seen some detectorists bring a shovel with them, don't be that guy! Have a look at the metal detecting sand scoops below and determine which one is right for you. Think about the material you want it to be made out of and if you want a handheld, knee high, or long handled scoop. Also, have a look at this great video which gives a great description of the types of metal detector sand scoops detailed on this page. The video is from a DVD called Metal Detecting Florida Beaches, check it out!

Metal Detecting Sand Scoop Materials:
Plastic is inexpensive, lightweight, and is good because you can swing your detector over the plastic sand scoop to see if you have the target. With the right tools, some detectorists even make their own. See below for some videos detailing the process. However, plastic is also going to wear the quickest. Use a plastic sand scoop if you are going to focus on hunting any dry sand beach with loose sand that doesn't have many shells or rocks.
Aluminum is considered the middle of the road, having the lightweight properties of plastic, while having durability closer to steel. Aluminum scoops work well in the dry or wet sand and can handle sand with shells and some smaller rocks. I have found that most metal detectorists use aluminum because it is affordable, light, and strong. Also, a great option is getting an aluminum beach scoop with a stainless steel tip.
Steel is the most durable but also has the highest price and can be heavy. The Stainless or galvanized steel sand scoop for metal detecting can handle all types of sand, including large rocks as the tip is less prone to being bent. Also, stainless steel make great water scoops because their weight helps you plunge deep into the wet sand with the use of your foot.

Hand Held Beach Metal Detecting Scoop: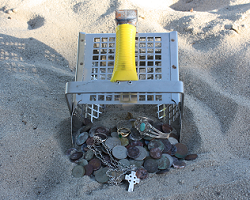 These are the perfect accessory if you want to start beach metal detecting. It is as simple as bending over or dropping to one knee and scooping beach sand, shaking until there is nothing left but your target. Plastic handheld beach scoops are the most popular because as mentioned above they are inexpensive and lightweight. Aluminum is great choice as well. If you do want a handheld beach scoop that can take a beating, steel is the way to go. Essentially all materials make for a great first beach scoop and eventually can be used as a backup if you decide to upgrade. Handheld beach scoops are also easy to take with you on a trip if you decide to travel. See below for a comparison I put together of the best handheld beach scoops.

Best Selling Handheld Scoops
Model

Material
Pros
Cost
Lowest Price


Yellow Handheld Scoop
Plastic
Inexpensive
Lightweight
$


Garrett Metal Scoop
Galvanized Steel
Durable
Works in Wet Sand
$$


RTG Speedy Sand Scoop
Aluminum
Lightweight
Easy to Grip Handle
$$
Knee High Beach Metal Detecting Sand Scoop:
These
scoops are designed for the dry and wet sand. Knee high sand scoops are popular because you do not have to bend down as much as with handheld, making digging easier. They also give you a little more leverage on harder packed sand. I would recommend either aluminum or steel because you are putting a lot more force on the mouth of the sand scoop. These make a great travel scoop because depending on the length they will easily fit in a suitcase. I personally use this type of beach metal detecting scoop when I am hunting the dry sand of the beach. Click here for a great selection of Knee High Sand Scoops!
Heavy Duty Long Handle Wet Sand Metal Detecting Scoop: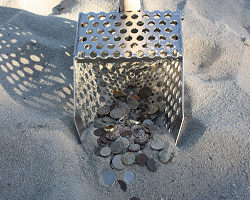 These metal detecting sand scoops are for the serious detectorist! These are going to be more expensive but they are high quality and make target acquisition a breeze, even in the water. Either aluminum or stainless steel are preferred and some versions break down into two pieces for travel purposes. I use a large stainless steel scoop that I purchased on Ebay many years ago. It looks brand new. What makes this style sand scoop so popular is that you do not need to bend down to scoop beach sand. You use these scoops like you would a shovel. Place the lip of the scoop into the ground and with your foot, press the scoop into the sand, then with your hand grip the scoop and slowly pick up the scoop, watching the sand clear out, leaving the target behind. If you are a wet sand or water hunter, these types of water scoops are a necessity. However, if want to metal detect the dry sand, stick with aluminum, stainless steel is far to heavy and is unnecessary. Remember, having a good beach sand scoop will increase your beach metal detecting finds because you will be able to quickly acquire targets giving you more time to hunt. See below for a comparison I put together of the best long handle beach scoops. These scoops are specially made by metal fabricators and they mainly sell through Ebay.

Best Selling Long Handle Beach Scoops
Model

Material
Pros
Cost
Lowest Price
RTG Pro Scoops
Aluminum
Inexpensive
Lightweight
Breakdown Handle
$
Current Ebay Auctions
Starv Scoops
Stainless Steel
Inexpensive
Many different versions
$
Current Ebay Auctions
T-Rex Scoops
Stainless Steel
Wide bucket
Small holes catch tiny targets

$$
Current Ebay Auctions
Stealth Scoops
Stainless Steel
Large bucket
Sharp tip for rocks
$$$
Current Ebay Auctions
Other Important Beach Metal Detecting Accessories:
Beach Metal Detecting Scoop Grip Attachment
Notice how nice and smooth those shafts are on the long handled scoops, not many places to get a good grip. This grip attachment fits on any long handle scoop and provides additional support when grabbing a scoop full of sand. Especially useful for wet sand hunters as wet sand can be heavy. When you use your foot to kick your scoop into the sand you then have to pull the scoop out. This requires use of your hands to grip the scoop and lift up. Having this near the middle of the scoop handle gives you an easy place to grip and can take pressure off your hands, shoulders, and back. Installation is pretty easy and this can be adjusted based on your preference. Click here or the image to learn more about this metal detecting scoop grip.
Metal Detector Finds Pouch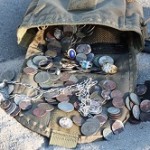 With all the goodies found at the beach you are going to need a place to put them so you can continue on your hunt. Beach metal detecting finds pouches are worn on the waist (most come with a belt) and are designed to hold not only trash items but your keepers in different compartments. Another important feature are "drain holes" so you can quickly rinse out all the sand that is stuck to your finds making clean up much easier.

Beach Metal Detecting Boots
If you have been beach metal detecting for awhile you will notice something about the beach sand. It is trashy! Sometimes that trash is sharp (glass, pieces of aluminum cans, wire, fish hooks, etc). Wearing good hard soled shoes is very important. I used to wear sandals but I got tired of sand and small critters touching my toes. I have had these boots for awhile now and they are amazing! The hard sole is great and the zippers are high quality. They are fully waterproof and are great for wading in the shallow water. Make sure to wash them off in fresh water after use to keep them in great condition. Click here or the image to learn more about these metal detecting boots.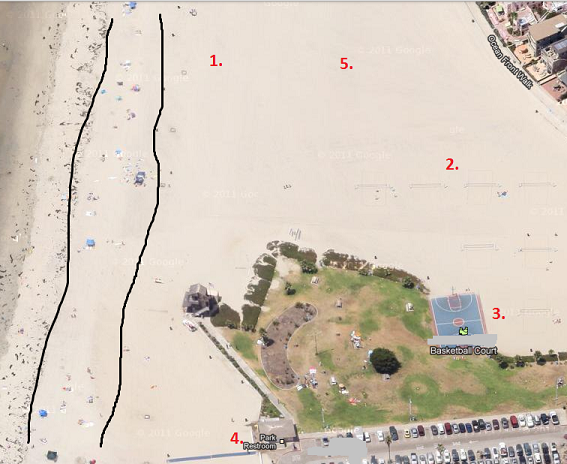 Having the right tools for beach metal detecting is important but you need to know the best places on the beach to metal detect, right? Some beaches are so large, walking onto them for the first time can be daunting. There is just so much wide open space! I have a webpage dedicated to the best places to metal detect on the dry sand of the beach, the wet sand, and the water. If you have your metal detector, beach metal detecting sand scoop, and treasure pouch ready to go, have a look at my Beach Metal Detecting Tips.
Do it Yourself: Making a Homemade Sand Scoop
This is a simple project that requires minimal materials. This homemade sand scoop is a handheld model that can be put together easily, all you need is a drill, a plastic mug, and a pen. You can use this plastic sand scoop at the dry sand of the beach but realize that it is not built to last, but will make a great beginner beach metal detecting scoop. Also you can practice at a local park that has sand to make sure it works properly. IF you are interested in making a long handle scoop see the next sand scoop below.


This homemade sand scoop consists of a plastic pipe, drilling holes, and combining metal mesh to the back so that sand can drain out with ease. Please keep in mind, if you use metal mesh, using your foot to dig with the scoop will cause it to break over time. However, this scoop will be easier to use over a handheld model because you will not have to bend down to acquire potential targets. Making your own homemade sand scoop is a great alternative to buying a beach scoop. However, there are plenty of options for buying a great sand scoop on Ebay. Have a look!